Ultrasonic Level Transmitter 4 wire - Micro ULT 511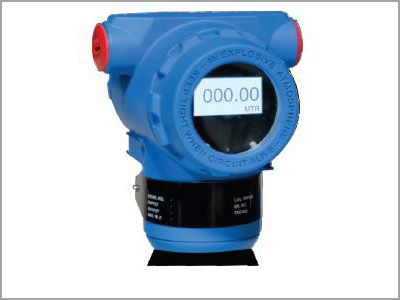 SALIENT FEATURES
• Non contact type level measurement.
• 4 wire operation.
• Integral LCD Display
• Self diagnostic function i.e. Error message are displayed.
• Automatic temperature compensation.
• Instrument configuration settings are password protected.
• Accuracy 0.25% of F. S.
• Compact size & easy maintenance.
• Reliable & cost effective system.
• Software calibration.
DESCRIPTION
MicroSet series Ms ULT - 511 is a 4 wire Ultrasonic Level Transmitters specially designed for non contact type level measurement.Ultrasonic level measurement is based on the time required by ultrasonic pulses to travel from sensor & surface of liquid & back to sensor.
Ultrasonic level transmitters are the best for applications such as slurries, corrosive liquids & waste water.
The transmitter provides 4-20 mA DC continuous output with local indication through LCD.
The measuring range is available from 0.6 to 8 mtr. An expanded range upto 15 mtr. Also available on request.
SPECIFICATION :

Measuring Range

: 0.6 to 15 mtr
Expanded Range
: upto 20 mtr.
Type of Output
: 4 - 20 mA DC
Power Supply
: 24 V DC, External
Power Consumption
: < 500 mW
Dead Band
: 0.6 mtr
Display
: 8 x 1 LCD (4 digit for Level)
Accuracy
: +/- 0.25% of F. S.
Operating Temperature
: -30 to 80°C
Operating Pressure
: Atmospheric
Beam Angle
: < 7°
Response Time
: < 500 Msec
Measuring Frequency
: 25 Khz
Temperature Coefficient
: +/- 0.01% per°C
Enclosure
: Weather-proof, IP-65
Process Connection
: 2" BSP Threaded
Mounting
: Top of the tank
Weight
: 1.5 kg
Operating Conditions
: Temperature 0 to 55°C / Humidity 5 to 95% non condensing